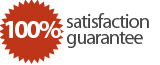 At AngelFlorist, customer satisfaction is always our number one priority.
Our promise to you is that we will do everything we can to make our customer happy. If for any reason you're not satisfied with your shopping experience in AngelFlorist, we can offer a free replacement or full refund, depending on the actual case.
We guarantee that your floral arrangements will stay fresh for up to one week with the proper care on the recipient's part. Please understand that there are some flowers that are more perishable than others. However, we guarantee 100% satisfaction on all products. If the flowers delivered are not fresh, we will deliver a replacement at no charge. However, complaints must be received within 48 hours of the time of delivery.
To assist us in quality control, it is our policy to collect the original flowers upon delivery of our free replacement. Unfortunately, we cannot arrange a resend of fresh flowers to you if the original flowers are disposed of, thereby making them unavailable for our florists to assess the cause of the problem.